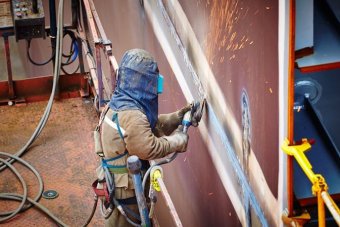 'Delays and disruptions' feed Inpex stoush
Posted

June 14, 2016 21:00:52

A standoff is brewing between two major contractors on the huge Ichthys liquefied natural gas (LNG) project near Darwin, with 130 jobs slated to go.
Key points:
Ichthys joint venture among the world's biggest LNG projects
Stoush between contractors UGL and JKC
UGL share price has fallen heavily
Engineering company UGL's share price plummeted by a third last week after it announced delays, disruptions and cost blowouts on the Inpex's Ichthys joint venture, and it has since fallen even further.
The subcontractor said the blame lay solely with its client and principal Inpex contractor, JKC.
The $US34 billion joint venture near Darwin in the Northern Territory is one of the world's biggest LNG projects, but it has faced delays and now an escalating stoush between two contractors.
In a statement to the ASX, UGL told shareholders:
"The construction of the Ichthys SMP and CCPP projects being undertaken by UGL … continues to experience substantial delays and disruption attributable to the client, JKC Australia".
It warned if it could not resolve its claims with JKC "the claims will need to be concluded through formal dispute processes", which could see UGL face $200 million in contract losses.
Additionally delays have led to cost increases in the combined cycle power plant (CCPP) project, UGL said.
In a statement an Inpex spokesperson said commercial negotiations are ongoing between JKC and UGL.
"These negotiations are not impacting work performance," she said.
Gas industry analyst Peter Strachan said big construction projects often ran over time and over budget, but the latest developments would not help the venture.
"Obviously the project is already running behind and it's over cost so this just adds to the pain generally being experienced by the Inpex project at Ichthys," he said.
Jobs set to be slashed
In a statement JKC said it would make 130 jobs redundant by the end of June.
The Electrical Trades Union's David Hayes said some workers had only been hired several weeks ago.
"The morale at the moment especially at UGL is very low," Mr Hayes said.
"We're in a situation with UGL at the moment where we've got 36 electricians about to be demobilised off the project."
He said 21 others who had recently been hired were now gone, some of whom were expecting to work there for up to 12 months.
In a statement, JKC Australia Project Director John Bramley said the layoffs were "a natural part of every construction project cycle, where work scopes change or are completed.
"As a result, reduced workforce requirements occur in some areas, whilst others increase as new works commence," he said.
Analyst Peter Strachan said the slowdown in the construction phase of the so-called mining boom was hurting those companies that serviced the mining sector.
"Throughout the sector it's been a one way downward travail for the last two years," he said.
"I mean, we've had a huge construction boom through 2010 to 2014, 2015, those projects are now winding down and the outlook over the next 12-18 months is pretty subdued for the engineering companies."
Topics: